Dwyane Wade returns to Miami Heat after birth of child, shares baby photos
advertisement
Wade ended his paternity leave Tuesday night, checking in for the Heat midway through the first quarter of their game against the Brooklyn Nets. He said his wife and their daughter are doing well, which allowed him to feel comfortable resuming his season after a seven-game hiatus.
"I'm going to obviously miss them," Wade said. "It was tough leaving my little girl and my wife, but I've got to get back to work and I'll see them again soon."
Wade and his wife Gabrielle Union-Wade welcomed Kaavia James Union Wade into the world on Nov. 7. Wade had been in Los Angeles with them since then, and flew back to Miami on Monday.
His return is most certainly welcome in Miami. The Heat went 2-5 in his time away, falling to 6-10 this season entering the game against the Nets. They were playing Tuesday without guards Goran Dragic (knee), Tyler Johnson (hamstring) and Dion Waiters (ankle recovery from last season).
"There's a human element to this business and to the game and it is the most important thing," Heat coach Erik Spoelstra said. "The connection, your spirit, your emotions, everybody getting on the same page, and just seeing Dwyane back here with the guys there was a tangible boost in the energy today in the shootaround."
Wade is Miami's third-leading scorer this season, entering Tuesday at 14.3 points per game. He was in his best stretch of the season when he got the call that his daughter was coming a few weeks earlier than planned.
He said he felt the frustration level his team has gone through in the past couple weeks, and he tried to keep in touch via texts and phone calls. Wade kept up conditioning while in Los Angeles, but knows it'll take a little time to get back to the level of a few weeks ago.
"I was so excited for my daughter to come, but I was like, 'Baby, you know, your dad was playing in a rhythm. You could have waited a little while,'" Wade said. "I was just getting my legs under me, but great things happened to make me miss time, and now I'm back."
The baby was born via a surrogate, which is one of the reasons why Wade felt taking a brief paternity leave was necessary.
Parents of surrogate-carried babies are told the first few days after the birth are critical to forging deep bonds with their child. Lots of skin-to-skin contact and talking to the baby helps with the bonding.
So Wade needed time, and the Heat supported the plan.
"So much of this league is mood of the team and confidence," Heat guard Josh Richardson said. "With him back, we're definitely a lot more confident moving forward."
Union-Wade — who revealed she had nine miscarriages in her 2017 book "We're Going to Need More Wine" — has taken time off work to bond with the new arrival. She's been filming an upcoming project in Los Angeles, and when she's back on the set, Kaavia James will be close by.
"She was working right up until we got the call," Wade said. "When she goes back, my daughter will be going back to the set with her. Her trailer is fit for everything, the baby's safety, everything. So our baby will be there with her when she's at work."
Wade strongly considered retirement during the offseason because of the baby's arrival, not making the decision to return until just before training camp in September. He questioned whether it was fair to his wife and their family to still be playing and traveling while raising a baby.
He also wondered if he could handle being away from his daughter for long stretches.
"We went through a lot to get here," Wade said. "My family had to come first right now."
Quick Breakdown: NBA Awards
advertisement
Regardless of when you would like to see the NBA awards handed out, Monday night marked another series of awards handed out at the annual NBA Awards Night. Here's a quick breakdown of the night's festivities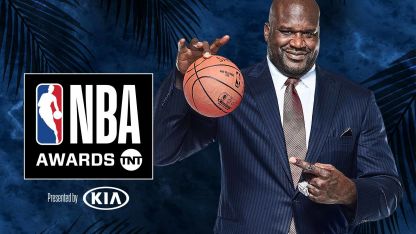 Shaq as a host:
Shaq is a funny person, and that filled some major holes in the idea of a ninety minute NBA awards show. Rapping in Auto-Tune was an interesting move, but perhaps the most eyebrow raising moment was joking about his own divorce. Aside from joking that his ex-wife is a great house keeper ("she kept the house in Orlando, kept the one in LA"), Shaq relied mostly on clowning Charles Barkley. Shaq stepped a bit further into the water with his "LA lost their Balls (i.e. Lonzo and Pops) in the AD trade" and "Dwight Howard pulled a butt muscle taking a selfie" jokes, but wasn't all the way in the deepend either. Shaq was fine.

Rookie of the Year Award
Luka Doncic won with 98 of the 100 first place votes. Hate to say it: the media sure made it seem that the race would be much closer. Luka has been the clear front runner since November and, truth be told, him losing would be an indictment more on the Mavs tanking the second half of the season than his individual performance. Trae Young had a ROY type of year in most years, as did DeAndre Ayton. Luka was just something different. Whether it was due to playing professionally for a year, the situation he fell into, or whatever it may be… Luka Doncic was the Rookie of the Year, and won.

Most Improved Player Award
Most regular season awards, when handed out in late June, seem odd. The MVPs have all had disappointing playoff performances, the coaches of the year missed major series adjustments, and the rookies of the year haven't played in months.
The Most Improved Player, this year, was an exception to that norm. Pascal Siakam beat out DeAngelo Russell and De'Aaron Fox for the MIP award after finishing a tremendous playoff run with a championship. For all of the "Kawhi Leonard is old school and did it with no other super stars" talk, Siakam certainly played like the super star he "wasn't."

Sportsmanship and Teammate of the Year Award
Is there any NBA player more liked by other NBA players than Mike Conley? Further, has anyone been able to define their career with toughness and be universally beloved? Mike Conley is an impressive teammate, and was appropriately recognized for his role in mentoring a young team in Memphis this season.
People forget that it wasn't that long ago that Conley was a force and throwing wrenches in analysts playoff predictions. After an injury plagued season a year ago, and trading Marc Gasol in the middle of the season this year, Captain Conley became Coach Conley in many ways. His impact will be seen on the future generation of Grizz, and Utah ought to feel lucky to add a veteran back court leader for next season. Congrats to Mike Conley, all accounts indicate these awards couldn't have gone to a better guy.

6th Man of the Year
The 6th Man is always an interesting award because it is inherently not the best player on his team. It goes to a key bench player that swings momentum, usually a young guy early in his career or a veteran in the twilight of his own.
Except for this year, when two of the Clippers leading scorers were both nominated for the 6th Man of the Year award. The Clippers' Lou Williams, his teammate Montrezzl Harrell, and Indiana's Domantas Sabonis would have all been solid picks for the 6th Man of the Year.
But the winner, for a third time, was career 6th man Lou Williams. Lou Williams, who won the award in Toronto, came in third his season in Houston, and has won it twice now in LA, has become the iconic 6th man.
One interesting thing was in Lou's acceptance speech… He reached out to Harrell, and commented that "it's extremely difficult to be a finalist and lose to a teammate," and that he felt bad for his teammate Harrell. Anyone ever going to ask Lou if he is throwing shade at his teammate in Houston Eric Gordon, who won the award when he came in 3rd in 2017?!
(For the record, he's probably absolutely not throwing shade, and is probably just relating to his teammates current emotion, which is very kind. Probably.)

Community Service Award
Bradley Beal went with the LeBron James approach to his off the court endeavors by helping work with and build up schools in the DC area. Specifically, Beal created a new path for many underserved kids.
Where he really won, however, was in bringing two right hand men to stage. Clearly that's why he shoots so well: he has two right hands! But on a more serious note, Beal's commentary and moment was uplifting, and one of the highlights of the awards show.

Sager Jacket
Who else could have won this besides Robin Roberts? Further: who the heck do they hand this one to next year? Perfect pick for the award, and incredibly powerful moment.
I would hate to have to be the person who follows up with that award next year.

Coach of the Year
Coach Budenholzer came into replace Jason Kidd in Milwaukee last offseason, and saw a team that got beat in the first round turn into a contender with an MVP. Nick Nurse dealt with a lot in Toronto and Michael Malone was successful in Denver, but the Bucks' turnaround was clearly due to a shift in command. Budenholzer was an easy pick there.

Defensive Player of the Year
Paul George and Giannis Antetokounmpo were both nominated for the MVP and DPOY awards. In fact, a big part of their MVP cases were their extraordinary defensive analytical statistics. Both PG13 and Giannis were incredible defenders that could lock up multiple positions. In particular, Giannis Antetokounmpo can cover all five positions effectively.
The award, however, went to rim protecting big man Rudy Gobert for the second year in a row. Gobert anchored one of the NBA's best defenses in Utah, and was the black hole that the Jazz funneled their men into as the shot clock winded down. Gobert's role was smaller than Antetokounmpo or George, but he did it at an elite level.
But one wonders, "what gave him the edge over Antetokounmpo?"
PJ Tucker may have an idea… https://twitter.com/Rockets_Insider/status/1143355557790834688

Executive of the Year
In a similar vein to Coach of the Year, the Milwaukee Bucks were rewarded for their big shift last summer. Further, the Bucks front office went out of their way at mid season to add in big shooters to prepare for the playoff run. Jon Horst, the GM of Milwaukee, represented the franchise in winning this award.

Most Valuable Player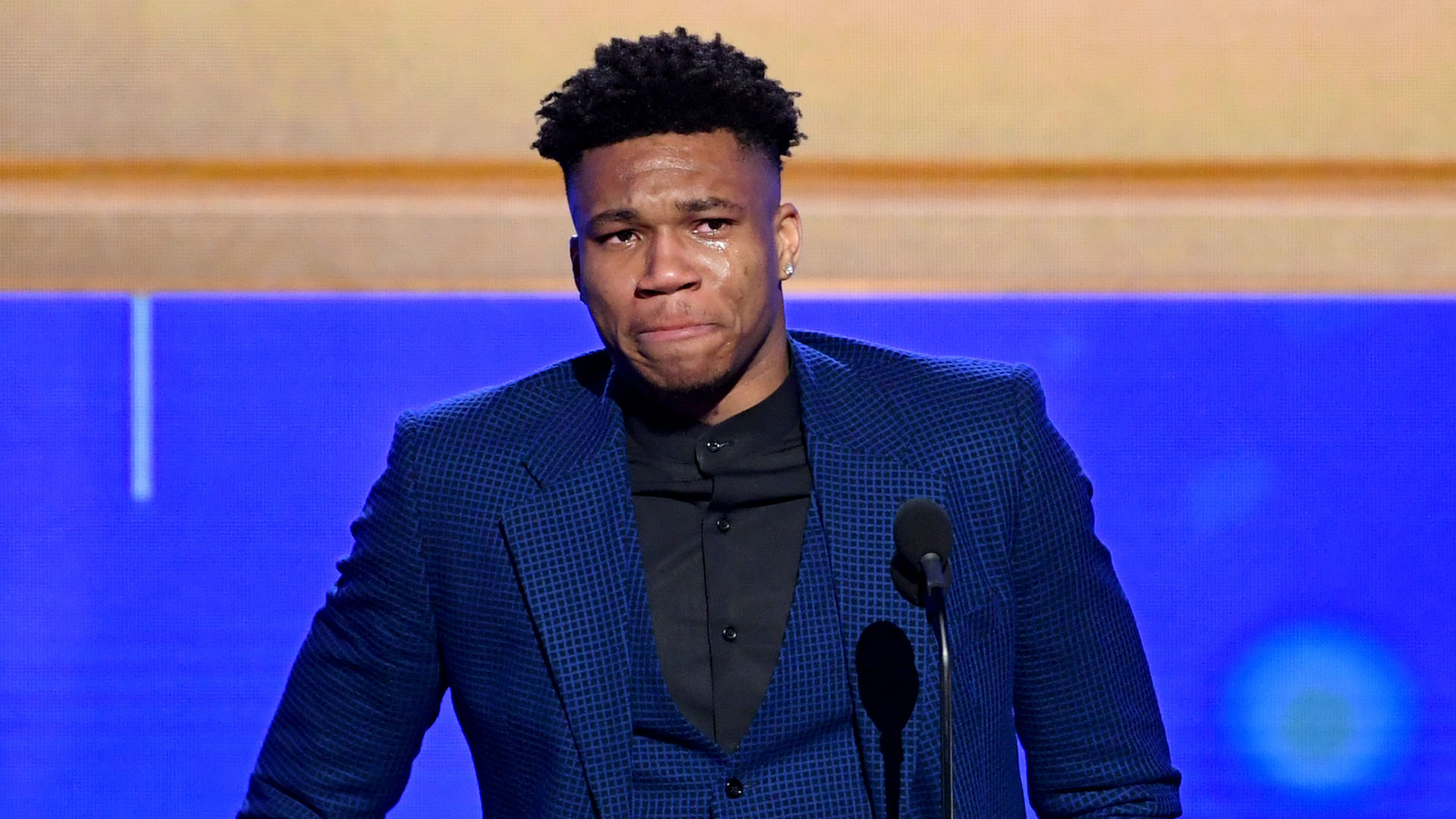 While Paul George rounded out the three nominees, James Harden and Giannis Antetokounmpo were the two players fighting out the MVP award.
Harden had an unprecedented offensive season, setting records unseen by perimeter players while dominating with Wilt Chamberlain level scoring performances. In a season where critical teammates missed major portions of the season, the reigning MVP improved his game on both ends. Harden improved his defense, was top 2 in deflections and steals per game, and became a reliable post defender in Houston's switching scheme. In conjunction with averaging 36 points per game, Harden had nine games in which he scored over 50 points. In following up his MVP campaign from 2018, Harden wrote quite an MVP resume.
Giannis was not just the best player on the team with the best record in the NBA, he was a physically imposing force in doing so. Antetokounmpo guarded all five positons, and wove around them for demoralizing dunks on the offensive end. He spearheaded the offense and defense that combined for the league's best point differential. Giannis presence was a combination of Shaq like interior power and LeBron like open court explosion.
The truth is, in most seasons either one of the two players would have been an MVP. While both had their post seasons end disappointingly early, Harden and Antetokounmpo had historic regular seasons worth remembering.
Giannis won the contest that felt like a toss-up all year long and Harden came in second in voting for the third time in five years. Antetokounmpo, just 24 years old, is the third youngest NBA MVP ever. His emotional speech shed light on his motivation: the memory of his late father. Hats off to the NBA MVP Giannis Antetokounmpo.

The Theme: A Global League
It makes some sense: in the first season an NBA team from outside of the United States hold the Larry O'Brien (and for the first time can really say they're the "World Champs"), the NBA Awards were dominated by players born in other Countries. Luka Doncic, ROY, is a Slovenian that played professionally in Spain. Pascal Siakam immigrated to Texas from Cameroon as a high schooler to pursue a future in basketball. Lou Williams won the 6th Man award, but finalist Domantas Sabonis is the son of Lithuanian superstar and Portland Trailblazer Arvydas Sabonis. Rudy Gobert was born in northern France and played in the French Men's league for three years before coming to the NBA. Giannis Antetokounmpo's MVP rounded out international motif of the night as the son of Nigerian refugees in Athens, Greece, before coming to the United States to play in the NBA.
The NBA is growing to be a league larger than the American borders. Taking in refugees, and sending ambassadors all over the world, the league has truthfully grown into a much bigger league than Dr. Naismith could have ever imagined.
Some may even call it "Shaq-sized"… ok so maybe he really was the perfect host.

Giannis Antetokounmpo Wins the Most Valuable Player Award
advertisement
This year, Giannis Antetokounmpo took his game to another level, leading the Milwaukee Bucks to a league-best 60-22 record.
While he could not lead his team to the NBA Finals, the Greek Freak still had a remarkable season as one of the most dominant forces in the league.
For his remarkable regular season, Antetokounmpo was named the league's Most Valuable Player.
Antetokounmpo averaged 27.7 points, 12.5 rebounds and 5.9 assists per game this season, while also provided excellent defense on the other end.
The crazy part about Giannis becoming the league MVP is the journey he took to get there. Antetokounmpo was drafted with the 15th overall pick six years ago and people did not even know if he could stay in the league.
Now he is the league's best player.
Giannis was clearly emotional about receiving the award, as he thought about all the work that led him to that point.
Still just 24 years old, Giannis is one of the youngest players to win the MVP and is set to be at the top of the league for years to come.
With a trophy case that now features a league MVP, along with a Most Improved Player Award, there is not much more Giannis needs to accomplish in the regular season.
The next step, is leading the Milwaukee Bucks to their first championship in nearly 50 years.
With the great talents of Antetokounmpo, there is no telling what is next for this NBA superstar.
Lou Williams Wins the Sixth Man of the Year Award…Again
advertisement
They really should just re-name the Sixth Man of the Year Award the "LouWill Award", as Lou Williams seems to take it home every year.
After another great season, Williams once again won that award. It was his second year in a row and third time winning it in the last five years.
While he came off the bench, Williams was the Los Angeles Clippers leading scorer this season, averaging an even 20 points per game.
Along with his ability to score at will, Williams has really improved as a play maker since coming over to the Clippers two years ago.
Williams has averaged just over three assists per game throughout his career, but has now eclipsed five assists per game in each of the last two season in L.A.
By winning the award for a third time, Williams joins Jamal Crawford as the only other player to accomplish that feat.
There may not be odds out yet on who will take home next year's Sixth Man of the Year Award, but chances are Williams is the odds-on favorite.