Nigeria World Cup Star hides his fathers abduction during the World Cup.
advertisement
Nigeria captain John Obi Mikel played in a crucial World Cup match against Argentina four hours after being told his father had been kidnapped for ransom back home and would be shot if anyone talked to the police.
"I had to shut it out of my head and go and represent my country first," Mikel said.
Mikel decided to hide the news from his teammates and coach so as not to destabilize the team and went ahead and played the game in Russia, the midfielder said in a statement released by his management company on Tuesday.
Mikel's father, Michael Obi, was rescued from armed kidnappers by Nigerian police following a shootout in a remote, forest area in southeastern Nigeria on Monday, nearly a week after his abduction.
That allowed the player to talk about the incident publicly.
Police said Michael Obi, who was rescued along with his driver, had "recovered from the trauma of the kidnap."
In a post on his official Twitter account later Tuesday, Mikel said his father was "recuperating with family."
It was the second time Michael Obi had been kidnapped in Nigeria.
Mikel said he received a telephone call in St. Petersburg last Tuesday telling him of his father's abduction as the Nigeria team was heading to the stadium to play in the World Cup against Lionel Messi and Argentina.
Nigeria lost 2-1 after a late Argentina goal and was eliminated from the World Cup as a result. Mikel played the whole game knowing that his father was in serious danger.
"I was emotionally distraught but had to make a decision about whether I was mentally ready to play the game," Mikel said in his statement. "I was confused. I did not know what to do, but in the end I knew that I could not let 180 million Nigerians down.
"I could not even inform the coaches or NFF (Nigeria Football Federation) staff, and only a very tight circle of … my friends knew. I was told that they would shoot my dad instantly if I reported to the authorities or told anybody."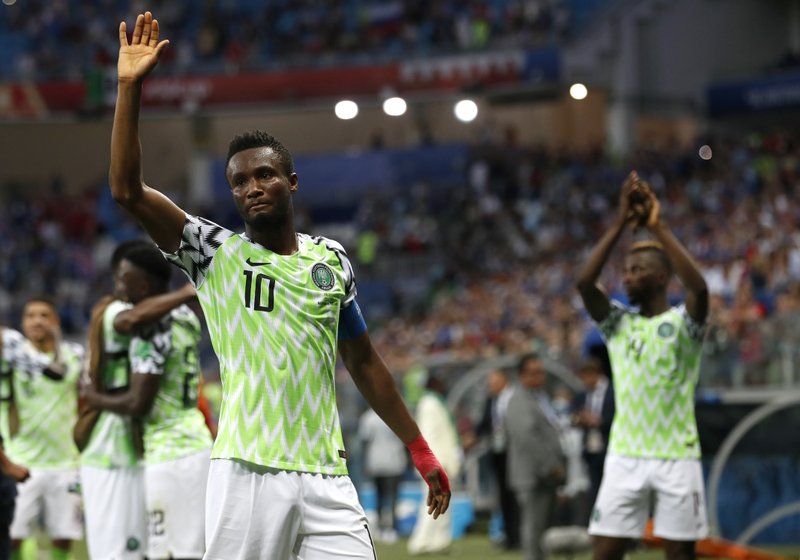 The kidnappers demanded a ransom of $28,000 for Mikel's father, according to Nigerian police in the southeastern state where his father was rescued.
But police spokesman Ebere Amaraizu told The Associated Press that Michael Obi was rescued along with his driver after a shootout and no ransom was paid. The two men had been held by the kidnappers for nearly a week after being abducted on a road while traveling from the central city of Jos to a funeral in the southeastern state of Enugu.
Kidnappings for ransom targeting family members of wealthy people are common in Nigeria, an oil-rich nation of nearly 200 million people and Africa's most populous country.
Mikel, one of Nigeria's most successful players, was at Chelsea in the Premier League from 2006-17. He moved to Chinese club Tianjin Teda last year.
His father was also kidnapped in 2011, when the kidnappers demanded a $4 billion ransom from Chelsea.
On that occasion, Michael Obi was kidnapped in Jos and rescued in the northern city of Kano, 190 miles away, 10 days later.
Mikel said he desperately wanted to talk about his father's latest kidnapping with Nigeria coach Gernot Rohr at the World Cup but thought it would upset the team, and so kept quiet.
"I did not want my issue to become a distraction to the coach or the rest of the team on the day of such an important game," Mikel said. "So as much as I wanted to discuss it with the coach, I could not do it. Thankfully he (Mikel's father) is now safely released."
Nation's Soccer Star Tries the Nation's Game
advertisement
The US Women's National Soccer Team captivated many on their run to a historic fourth World Cup victory. Behind the feet of Megan Rapinoe and Alex Morgan, the squad had record setting 13-0 type of victories and nail biting 2-1 type of victories along the way and became a story of the summer in sports.
The success has created quite a buzz around the team. Leaders of the USWNT have been outspoken on social injustices, and not backed down when called out by politicians. Additionally, they have been involved in a law suit for several years now over equal compensation with their male counterparts. The popularity of the women on the team has soared, and resulted in several victory tour stops across America, both on the field and on parade routes. The most visible was in New York, which featured droves of fans crowding Manhattan streets and swarming the floats, and ultimately culminating in Megan Rapinoe's inspirational victory speech.
But now, a USWNT player is eyeing, potentially, a new opportunity. On August 20th, the USWNT twitter profile sent out a video of forward Carli Lloyd hitting a 55-yard field goal at a Baltimore Ravens practice, on noticeably narrow goal posts (designed to make practicing harder than a game). The Philadelphia Eagles also tweeted out the video, confirming the 55-yard make and demonstrably impressed.
Lloyd has received an immense amount of positive feedback from folks around the league. She has commented that she's "laughing about it, but the more [she] thinks about it, this has the chance to be a sort of a pioneering moment for women."
"It could be a huge pivotal moment. There is no reason why a woman could not do this. And I actually invite the pressure. I love the pressure. When I have to nail something—shooting hoops, ax-throwing, kicking a field goal—that is the moment I live for and want. It comes down to the mind, training the mind."
Lloyd commented that she has received some commentary from multiple NFL teams, we may see she (or another female soccer star) try it out one day.
While it may not be Lloyd, her pushing the gender line in the NFL is just the latest in a constant fight for equality out of the USWNT. As the representatives for a nation of "We the people," no American national team has done as much to represent those people. While it sent shockwaves throughout the twitterverse, it is certainly not off brand for the USWNT to be pushing the present boundaries and speaking on equality.
MLS Star Uses Goal to Speak Out Against Gun Violence
advertisement
The 48 hours of the weekend were as tough a weekend as any in recent American history. Two mass shooting, with a total toll of more than 30 lives, occurred within 13 hours of one another in El Paso, Texas, and Dayton, Ohio.
Americans faced a slew of emotions as they woke up each morning to tragic news in very different corners of our nation, none more so than the folks so directly impacted in both communities. Sadness, anger, and despair were just the tip of the iceberg for a nation that continues to see the stories of the weekend all too frequently.
Everyone mourns in their own way, and in the world of sport, most baseball stadiums, soccer stadiums, and basketball gyms took a moment of silence.
In Philadelphia, one man broke silence. Using the platform afforded to him by his talent, the Philadelphia Union captain and attackman Alejandro Bedoya swiftly scored with his right foot, off the left post and in from the front of the box, in the third minute of their match against DC United.   
It was only Bedoya's third goal of the season, and his eighth in his MLS career, but what happened afterwards will forever make it his most memorable.
Bedoya, a former member of the US Men's National Team, celebrated by sprinting to the sideline, celebrating with family, then his teammates. Fairly standard when your family is in the front row.
But then, Bedoya broke from his teammates and methodically jogged over to a sideline microphone. As the commentators quieted down, Bedoya loudly, over the crowd noise, charged "Congress, do something, NOW! End gun violence, LET'S GO!"
Bedoya spiked the microphone, and sprinted back to the field. Philadelphia went on to win 5-1, further aided by Marco Fabian's two goals, fueled by the energy displayed by their captain in the earliest stages of the match.
Needless to say, the moment was the most asked about thing after the match. Bedoya's clip has gone viral, and the 32-year-old was composed and firm on his stance. "I'm a human being before anything, so I'll never just stick to sports, and I never have…. fine me if they want. I've got to take a stand."
Soccer has become an American sport of activism this summer. Megan Rapinoe led the US Women's National Team to gold both on and off the field in the World Cup this summer, and was constantly questioned about her firm stance against the White House.
Further, the team has been a pillar in the fight for women's rights in the work place, most notably with their ongoing law suit against US Soccer for gender discrimination in their pay.
Alejandro Bedoya, an American born to former Colombian Adriano Bedoya and raised in South Florida. South Florida saw its own version of this American tragedy just under 18 months ago, when Marjory Stoneman Douglas High School in Parkland, Florida, was the victim of a mass shooting that saw 17 students and faculty members die.
While Bedoya said he is prepared for any fine the MLS offers him, this morning Major League Soccer has said they will not issue any punishments. The League's official statement was "The Major League Soccer family joins everyone in grieving for the loss of lives in Texas and Ohio, and we understand that our players and staff have strong and passionate views on this issue."
The MLS heard Bedoya and understood. The next looming question is, who else did?
James Harden Buys Stakes in Houston Dynamo
advertisement
The summer of 2019, in NBA History books, will forever go down as the summer of changing teams. Nearly 40% of returning NBA players are on new rosters, and several of those players have multiple All NBA selections on their resumes. Stars shifting seems to be status quo in the modern NBA… With one bearded exception.
James Harden has recently purchased shares of the Houston Dynamo (MLS) and Dash (NWSL). In speaking on the matter, Harden spoke of Houston as his hometown, and stated several times that he is in Houston for the long haul. Buying into the ownership of local sports franchises seems to indicate a serious investment in just that.
Harden has, for those paying attention, been a soccer fan for a while. In off seasons past, he has spent vacation time with European professional soccer stars like Paul Pogba, Kaka, and Neymar. More recently, Harden took a trip to Emirates Stadium in London to go behind the scenes and watch Arsenal play. The club gave Harden a customized kit (read: uniform) and let him explore the empty facilities early on the matchday.
Harden is one of Adidas' highest paid basketball players, and Adidas is involved in many pro soccer clubs, including both Houston teams and Arsenal. While Harden's court vision can remind fans of the beautiful game, Houstonians can rest easy in that the Beard wants to make those passes in Rockets' red. The lefty made one thing clear in his purchase: he's invested in staying in Houston for the long haul.