Serena Williams wins Australian Open return; Venus gets by
advertisement
This was quite a return for Serena Williams. Almost as if she never left.
In her first match at the Australian Open since winning the 2017 title while pregnant — and her first official match anywhere since a loss in the chaotic U.S. Open final last September — Williams looked to be at her dominant best, overpowering Tatjana Maria 6-0, 6-2 in the first round Tuesday.
"I kind of like to jump in the deep end and swim," Williams said in an on-court interview after the 49-minute workout, "and see what happens."
She hadn't dipped her toe in Grand Slam waters since New York, where everything devolved after Williams was warned for getting coaching, then docked a point for breaking a racket and eventually docked a game for calling the chair umpire "a thief" during the final.
When that match was mentioned by a reporter during Williams' news conference Tuesday, as part of a question about whether coaching should be allowed during matches at majors, she replied, "I, like, literally have no comment."
Playing solo this time 😉 pic.twitter.com/hKa4pmTNSM

— Serena Williams (@serenawilliams) January 15, 2019
Truth be told, the match against Maria was not much of a test for Williams, given that the 74th-ranked German entered with an 11-15 record in first-round matches at Grand Slam tournaments, only once has made it as far as the third round at any major and owns a total of one career WTA title after a dozen years on the tour.
Williams, meanwhile, is pursuing an eighth title in Melbourne and 24th Slam singles trophy overall, which would equal Margaret Court — whose career spanned the amateur and professional eras — for the most in tennis history.
"I have been going for the record (for) what seems like forever now," the 37-year-old Williams said, "so it doesn't feel any different."
How lopsided was this?
Williams needed all of 18 minutes to wrap up the first set, ceding just five of 29 points along the way.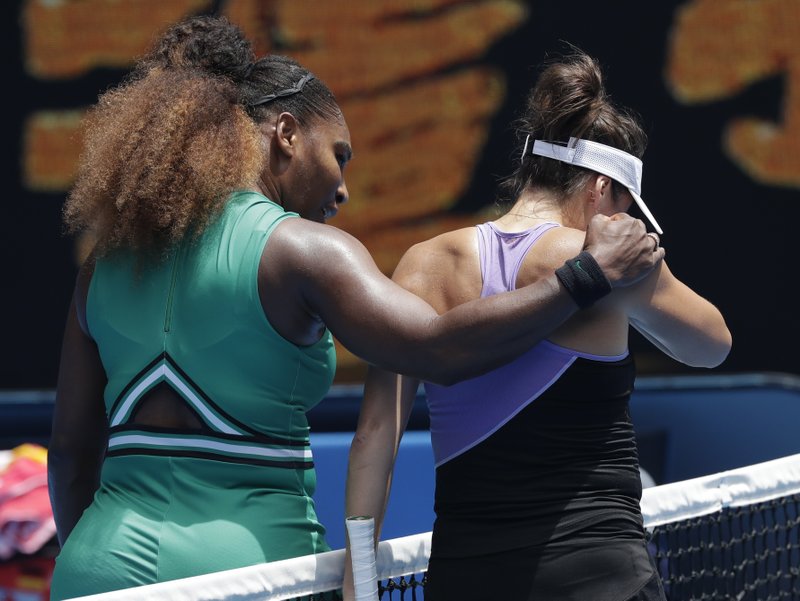 The American, a former No. 1 who is seeded 16th on account of playing only 24 matches in 2018, never faced a single break point and compiled a 22-7 edge in winners.
"Maybe," Maria said afterward, "I was a little bit overwhelmed."
Just a little bit.
The two players have homes near each other in a gated community in Florida — "We do sometimes barbecue together," Maria said — and their daughters — Williams' is 16 months old; Maria's is 5 years old — share play dates.
"I think the last time I was here, I was actually pregnant and playing at the same time, which is insane," Williams said. "It was kind of weird walking back on — by myself, this time."
Other seeded winners Tuesday included No. 4 Naomi Osaka, No. 7 Karolina Pliskova, No. 12 Elise Mertens, No. 13 Anastasija Sevastova, No. 17 Madison Keys and No. 18 Garbine Muguruza among the women, plus No. 4 Alexander Zverev, No. 8 Kei Nishikori, No. 11 Borna Coric and No. 12 Fabio Fognini among the men.
Both Nishikori, who had dropped the opening two sets against qualifier Kamil Majchrzak, and Fognini advanced when their opponents retired mid-match.
French Open finalist Dominic Thiem went the distance against Benoit Paire before wrapping up a 6-4, 6-3, 5-7, 1-6, 6-3 win just after 2 a.m.
Williams' older sister, Venus, is unseeded at a major for the first time in five years and she was a game from a first-round exit before coming all the way back to eliminate 25th-seeded Mihaela Buzarnescu 6-7 (3), 7-6 (3), 6-2.
She is a seven-time major champion and a two-time runner-up in Australia but is currently ranked only 36th.
The tournament's two No. 1 seeds, Novak Djokovic and Simona Halep, played at night and both won — although in contrasting fashion. Djokovic eliminated Mitchell Krueger of the U.S. 6-3, 6-2, 6-2, while Halep trailed by a set and a break before coming back to beat Kaia Kanepi 6-7 (2), 6-4, 6-2 and avoid becoming the first top-seeded woman in 40 years to lose her opening match at the Australian Open.
Krueger was part of a rough day for American men, who went 1-5 Tuesday; Ryan Harrison had the lone victory.
Two years ago, no one knew Serena Williams was carrying her child while winning her 23rd major to break a tie with Steffi Graf for the most in the half-century professional era. Her baby, Olympia, was born on Sept. 1, 2017, and Williams was off the tour until last March. Her Grand Slam return came at the 2018 French Open, where she reached the fourth round before withdrawing with an injured chest muscle, and was followed by runner-up showings at Wimbledon and the U.S. Open.
Because of a health scare after giving birth, Serena wears compression stockings during matches to try to make sure she doesn't get blood clots again.
On a humid afternoon with the temperature topping 90 degrees (32 Celsius) Tuesday, she wore a green leotard of sorts — she called it a "Serena-tard" — and while her dangerous serve produced only two aces, her other, considerable, tools were in working order.
When she returned to the tour last season, she often was asked to rate herself in comparison to how good she played in the past.
The younger Williams sister has no interest in that sort of comparison now.
"I don't want to give myself a ranking anymore. I think it gives me too much negative expectations. I always expect to reach the sky, and anything below it is not good enough for me," said Serena, who'll face 2014 Wimbledon runner-up Eugenie Bouchard next. "I don't know. I just know that I'm going in the right direction. I feel like I'm in the right direction. We'll see."
WATCH: Naomi Osaka Announces Split From Coach, Now She's Facing First Loss Since Earning No. 1
advertisement
Naomi Osaka lost her first match since moving up to No. 1 in the WTA rankings — and first since splitting from her coach.
The two-time major champion had trouble with her serve and was beaten 6-3, 6-3 by 67th-ranked Kristina Mladenovic at the Dubai Championships in a little more than an hour on Tuesday.
Afterward, Osaka wiped away tears while speaking to reporters and discussing the difficulty of dealing with her new-found spot atop the sport.
"I don't think I necessarily understand what position I'm in, in a way. Because last year, I wasn't even anywhere close to this ranking. People didn't pay attention to me — and that's something that I'm comfortable with," Osaka said.
"I don't really like attention," she said. "It's been a little tough."
Playing a second-round match after an opening bye as the tournament's top seed, Osaka won only 5 of 27 second-serve points, just 19 percent, and barely half of her first-serve points, 12 of 22.
She was broken seven of the nine times she served.
Mladenovic came into the Dubai Championships with a record of 0-4 in 2019.
Osaka had not competed since winning the Australian Open in January for her second consecutive Grand Slam title, a victory that also allowed her to become the first tennis player from Asia to lead the rankings.
Last week, Osaka announced on Twitter that she would no longer work with coach Sascha Bajin, who began coaching her before last season and helped her win the U.S. Open in September.
Osaka didn't offer an explanation for the split at the time, but addressed it during a media availability before the Dubai tournament, saying: "Everyone thinks it was a money-related issue, but it wasn't. … I think my reason is I wouldn't put success over my happiness."
In other action Tuesday at the hard-court tournament, second-seeded Petra Kvitova — the runner-up to Osaka at the Australian Open — beat Katerina Siniakova 6-7 (3), 6-4, 6-4; third-seeded Simona Halep — Osaka's predecessor at No. 1 — defeated Eugenie Bouchard 7-6 (5), 6-4; and No. 4 seed Karolina Pliskova edged Dominika Cibulkova 6-2, 3-6, 6-3.
No. 7 seed Kiki Bertens lost to Viktoria Kuzmova 6-2, 4-6, 7-6 (6), while No. 11 Daria Kasatkina was eliminated by 20-year-old American Sofia Kenin 6-3, 2-6, 6-4.
Australian Open champ Osaka is Asia's 1st No. 1 in tennis
advertisement
Australian Open champion Naomi Osaka is the first player from Asia to top the men's or women's tennis rankings — and the youngest woman to make her debut at No. 1 in nine years.
"I feel like I'm literally just still learning," the 21-year-old Osaka said. "Everyone kind of adjusts to being No. 1 in a different way."
Simona Halep's 48-week stay atop the WTA rankings ended Monday as she slid to No. 3 after a fourth-round loss to Serena Williams, one year after getting to the final at Melbourne Park.
"The main goal is just to play as good as I can every match, to win every match I play, so the ranking doesn't really matter," Halep said.
Halep said the year-end ranking is what is "more important" than where things stand now, "so I will not stress myself about this."
Osaka's second consecutive major title, following her success at the U.S. Open last year, helped her rise three spots.
She was born in Japan — her mother is Japanese, her father is Haitian — and moved to the United States when she was 3. She has dual citizenship and now is based in Florida.
Osaka is the youngest woman to reach the top since 2010, when Caroline Wozniacki did it at 20.
"People were talking about (me) being No. 1 if I win this tournament. I was able to accomplish that," Osaka said. "But the ranking was never my real goal. It was just to win this tournament."
The runner-up at Melbourne Park, Petra Kvitova, jumped from No. 6 to No. 2.
Sloane Stephens is No. 4, and Karolina Pliskova went from No. 8 to No. 5.
Williams missed the 2018 tournament after having a baby; her quarterfinal run this time pushed her up five places to No. 11.
Surprise semifinalist Danielle Collins, a 25-year-old from Florida, climbed from No. 35 to No. 23. The woman she upset in the fourth round, three-time major champion Angelique Kerber, dropped from No. 2 to No. 6.
Novak Djokovic's record seventh Australian Open title allowed him to stay at No. 1 in the ATP rankings, and Rafael Nadal's runner-up showing kept him at No. 2.
But 2017-18 champion Roger Federer's fourth-round exit took him from No. 3 down to No. 6.
The player who beat Federer, 20-year-old Stefanos Tsitsipas of Greece, turned his first run to a Grand Slam semifinal into a career-best ranking of No. 12.
1 point away, Serena stunned by Pliskova at Australian Open
advertisement
Four times, Serena Williams was only one point — a single point — from closing out a victory in the Australian Open quarterfinals.
On the first such chance, at 5-1, 40-30 in the third set, she turned her left ankle awkwardly. The owner of the best serve in the sport would lose every point she served the rest of the way.
And so it was that a startling reversal and result would follow Wednesday at Melbourne Park, with Williams dropping the last six games of a 6-4, 4-6, 7-5 loss to No. 7-seeded Karolina Pliskova of the Czech Republic.
"I can't say that I choked on those match points," Williams said. "She literally played her best tennis ever on those shots."
The 37-year-old American didn't call for a trainer during the match and later wouldn't blame the ankle for the way everything changed down the stretch, saying afterward that it "seems to be fine."
But instead of Williams moving closer to an eighth championship at the Australian Open and record-tying 24th Grand Slam title overall, it is Pliskova who will continue the pursuit of her first major trophy.
"I was almost in the locker room," Pliskova told the Rod Laver Arena crowd, "but now I'm standing here as the winner."
Normally, Williams is the one manufacturing a comeback. This time, it was surprising to see her let a sizable lead vanish. Only twice before in 380 Grand Slam matches had Williams lost after holding a match point, at the 2010 French Open and 1999 Australian Open.
In Thursday's semifinals, Pliskova will face No. 4-seeded Naomi Osaka, who advanced by beating No. 6 Elina Svitolina 6-4, 6-1. The other women's semifinal will be two-time Wimbledon champion Petra Kvitova against unseeded American Danielle Collins.
In men's action Wednesday, No. 28 Lucas Pouille of France reached his first Grand Slam semifinal by beating 2016 Wimbledon runner-up Milos Raonic of Canada 7-6 (4), 6-3, 6-7 (2), 6-4. Pouille, who is coached by two-time major champion Amelie Mauresmo, had been 0-5 for his career at the Australian Open until last week. His next opponent will be 14-time major champion Novak Djokovic, who moved on when 2014 U.S. Open finalist Kei Nishikori stopped playing while trailing 6-1, 4-1.
Nishikori was treated for leg problems by a trainer.
Williams' surprising departure scuttled what would have been a much-anticipated rematch against Osaka, who beat her in the chaotic U.S. Open final last September.
This defeat is the earliest in Australia for Williams since 2014, when she exited with a fourth-round loss to Ana Ivanovic. Since then? She won the tournament in 2015, lost in the final in 2016, and won again in 2017 while pregnant, before missing last year's edition a few months after the birth of her daughter.
As for chasing Margaret Court's all-time mark of 24 Slam trophies in singles, Williams said: "It hasn't happened yet, but I feel like it's going to happen."
The match against Pliskova was played under a stifling sun, with the temperature around 80 degrees (25 degrees Celsius). Williams — coming off an intense three-set victory over No. 1 Simona Halep in the fourth round — often stepped into the patches of shade behind each baseline.
She did not start well, not well at all. Her mistakes were mounting and deficit was growing.
In the first set alone, Williams made more than twice as many unforced errors as her opponent, 11-5, a pattern that would continue throughout. By the end, the margin was 37-15.
Looking increasingly frustrated, Williams would yell at herself after mistakes or gesture as if to say, "That's NOT how I should be hitting the ball!" Add it all up, and Pliskova led by a set and a break at 3-2 in the second.
Only then did Williams get going. From there, she immediately earned her first break point of the match and converted it to get to 3-all, beginning a run in which she claimed nine of 11 games.
"You don't really feel," Pliskova said, "like you're going to win this match."
Serving for the victory at 5-1, 40-30, Williams was called for a foot fault — reminiscent of an infamous such ruling at the U.S. Open a decade ago. During the ensuing point Wednesday, Williams twisted her left ankle and dumped a forehand into the net.
She grabbed at her foot afterward, then double-faulted and would go on to cede that game.
Not a big deal, right? She still had a sizable lead.
Except that three more match points would follow while Pliskova served, and she saved each one.
"There's nothing I did wrong on those match points. I didn't do anything wrong. I stayed aggressive," Williams said. "She just literally hit the lines on some of them."
Williams would again serve for the match at 5-3 — and again get broken. The owner of the most feared and respected serve in women's tennis was broken for a third time in a row at 5-all, and Pliskova was on her way.
"She got a little bit shaky in the end," Pliskova said. "So I took my chances. And I won."
Osaka will carry a 12-match Grand Slam winning streak into the semifinals.
The 21-year-old from Japan moved closer to a second consecutive major championship by parlaying her aggressive and powerful style into a 31-11 edge in winners against Svitolina.
"For me, right now, I just try to keep looking forward. So I'm not really satisfied. Like, I am happy that I'm here, but at the same time, I want to keep going," said Osaka, who never had been past the fourth round at the Australian Open. "There is more matches to win."